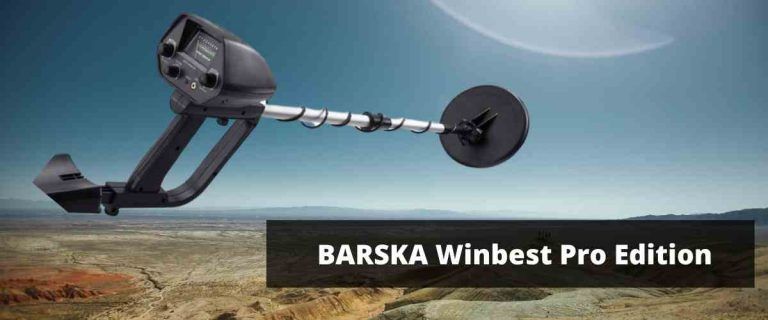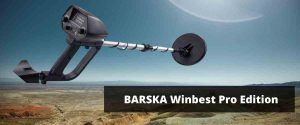 The BARSKA Winbest Pro Edition is a great metal detector that is designed for those looking for a user-friendly or an entry-level metal detector. In this post, we are going to look at Barska metal detector reviews.
This detector comes with a host of features among them multiple modes of operation to make your treasure hunt experience enjoyable and memorable.
The Winbest Pro Edition by BARSKA will allow you to hunt for coins, jewelry, gold, silver, relics, and any other precious metal anywhere. This detector is versatile and will offer performance and value for money. It is easy to use and can be ideal for both experienced and novice treasure hunters who are starting their treasure metal detecting adventures.
BARSKA Metal Detector Review
Sleek Design and Lightweight
With the Winbest Pro Edition, you don't need to have a helper to carry it around. It is designed to be lightweight for easy moving around effortlessly without depleting your hunting energy. As such, you can hunt all day long without getting tired.
The detector has a sleek and attractive look which makes it stand out from the rest of the metal detectors in the market. If you want beauty and performance in a metal detector, then Winbest Pro Edition could be your best choice.
Submergible Search Coil
Are you planning to hunt in wet environments where you need to dip the search coil underwater? This detector from BARSKA comes with a waterproof search coil. With this, you can comfortably hunt in streams, rivers, and shallow water along the beach.
However, the other elements like the control box aren't waterproof thus don't submerge the entire detector in the water. Or hunt in the rain for an extended period.
Two Operation Modes
The Winbest Pro comes with the highest level of customization whereby you can modify it to match your treasure hunting needs. It has two operation modes that allow you to choose the operating mode that is perfect for your hunting conditions.
The All-Metal mode allows you to hunt and detect metal items that are deeply buried in the ground. It doesn't matter the value of the metal this metal detector will find it using this operating mode. Moreover, if you are learning metal detecting for the first time, then this mode will provide you with the best learning experience before embarking on the real treasure hunting.
The other operating mode is the Disc Mode that allows you to detect a particular type of metal. If you want to hunt for gold only and discriminate against all the other metal items, this mode will come in handy.
Convenient Display Screen
The Winbest Pro Edition comes with a convenient display that allows you to easily view and read the meter to get the visual and audio indication of the detection results. The display screen is simple and straightforward to derive readings. Besides, the control knobs for volume, discrimination, and power on/off are located on the control panel to allow you to reach them out and operate while hunting without a hassle.
Volume Control
In order to improve the efficiency of the built-in speakers and that of the headphones, this detector comes with a volume control knob on its control box to help you adjust to the right volume level. Undoubtedly, we all have different hearing abilities, but with this volume control knob, you can adjust the volume to your preference.
You can set the volume high if you have hearing issues or when hunting relics, silver, coins, or gold in a noisy environment.
Headphone Jack
This metal detector comes with a headphone jack to allow you to use headphones. Typically, a metal detector produces a beep whenever it detects a metal. However, noise from the surrounding environment can compromise the sound produced.
You can imagine how frustrating it can be to mist an item detected in the ground simply because you didn't hear the beep. So, to get peace of mind, the headphone jack allows you to conveniently connect your headphones making it easier for you to get the beep once a metal item is detected in the ground even in the noisiest hunting environment.
Batteries
The Winbest Pro Edition detector runs on two 9V alkaline batteries that remain functional for a good period. With these batteries, you won't be changing them as often as you could with others.
Besides, installing the batteries is super easy. Switch off the detector from the control box and press on the battery compartment to remove the cover in the direction of the arrow. Remove the batteries from their compartment then replace them accordingly.
Be sure to use fresh batteries to avoid the leaking of harmful battery chemicals into the compartment that can potentially destroy the electronic parts of your detector. Also, take care of the polarity! The low battery indicator will alert you whenever the battery power is running down.
Adjustable Sensitivity and Pre-set Ground Mode
The Winbest Pro Edition comes with a pre-set ground mode and adjustable sensitivity. The pre-set ground balance and specific metal searching modes make this metal detector not only versatile but also flexible when it comes to hunting different metal objects. The pre-set ground balances also allow you to adjust to different terrains that you intend to use the metal detector.
It also comes with adjustable sensitivity for excellent metal discrimination. With this, you can set the sensitivity level of your detector that is suitable for detecting a specific metal item.
Ergonomic Design and Adjustable
The Winbest Pro Edition comes with an adjustable armrest. You can adjust the stem from 15.5 to 25 inches. With this adjustment, you can adjust the length to you comfortable detecting height. This adjustability also makes the detector suitable for both young and old metal detecting enthusiasts.
It is made lightweight. It weighs 2.5 pounds which makes this metal detector one of the lightest models you can find in the market. The lightweight will allow you to carry this detector to wherever your hunting adventures can take you. Besides, the lightweight comes in handy when swinging the metal detector as you detect from one area to another.
Warranty
When you have a great detector, you will want to have a peace of mind knowing that your best metal detector is covered. This detector comes with a 1-year limited warranty. So, if you find that your metal detector is not working as expected, you can bring it to the manufacturer for repair or replacement at no cost.
A 1-year warranty period is long enough to make sure that you have invested in a great metal detector. Therefore, don't pay for what doesn't satisfy you.
Final Thoughts
The Winbest Pro Edition Metal Detector is a product of BARSKA is an incredible metal detector that is suitable for every treasure hunter. It comes with a host of features that ensures your treasure hunting is less worrying. The features also make sure that you get the best hunting experience.
Treasure hunting can be enjoyable only if you have a quality metal detector. If not, your entire experience will turn out to be boring and unsatisfying. Take your time to shop for a metal detector if you want your treasure hunting to be memorable and always an event to look forward to engaging in.
So whether you want a metal detector for hunting in the shallow waters or on dry ground, the Winbest Pro Edition Metal Detector can do the job just right.
Related Posts