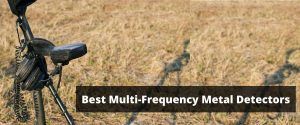 Choosing the best multi-frequency metal detectors is not easy. There are thousands of metal detectors on the market today, each with different features and strengths, the choice can be daunting.
One of the main features that you should consider when purchasing a metal detector is the operating frequency. Some individuals opt for VLF detectors while others go for higher frequency detectors.
Today, some brands are manufacturing metal detectors that can operate on multiple frequencies all at the same time. If you get this model, you are much like having several metal detectors all in one. Isn't it awesome?
So, what is the best multi-frequency metal detector? Several detectors come with multiple operating frequencies in the market. Choosing the best multi-frequency detector can be daunting. That is why we review some of the best options out there for you to have an easy time getting the right one.
Best Multi-Frequency Metal Detectors
1. Nokta Impact Pro
The Nokta Impact Pro is an excellent multi-frequency metal detector that is not so popular but works excellently. With three operating frequencies, this model will deliver you the best performance in the field.
The three operating frequency includes 5 kHz that is great for relics, coins shooting and regular sized targets. It has 14 kHz that is adapted for a target such as stainless steel that has lower electrical conductivity. The 20 kHz allows you to detect targets with poor electrical conductivity or small in size. If you intend to hunt for gold with his model, it won't be the best recommendation since its operating frequencies don't go beyond 20. Gold prospecting detectors start from 30 or 40 kHz operating frequencies and above.
It comes with a powerful discrimination mode. The discrimination feature will help you limit iron and ferrous metal detection as much as possible. This feature comes with an option to adjust the tone volume due to detecting iron. If you lower the tone, you will ignore iron detection.
The Nokta Impact Pro supports all ground balance possibilities. It has an automatic ground balancing ability that helps the detector to determine the proper settings. You can use the manual ground balancing if you have already used it on a specific area and know the correct settings to use. But is you are dealing with regularly changing ground areas, the tracking feature of this detector comes in handy to help you figure the right settings to use.
It has a waterproof search coil that allows detecting underwater or in wet conditions. However, note that the control box is NOT waterproof and as such submerging it underwater can be disastrous. So don't dive with your Nokta Impact Pro detector into water.
This multi-frequency detector from Nokta weighs about 4 pounds only thus providing a perfect combination between its balance and its weight. With the host of features that Nokta Impact Pro has, you will most likely have a great metal detecting adventure.
2. Minelab Equinox 800 Metal Detector
The Minelab Equinox 800 is designed with high-end innovative technology that makes it perfect when it comes to accuracy, diversity, and depth. It is designed to operate on any kind of search coil that you can perhaps explore. Let's look at notable features so that you a complete feel of this multi-frequency detector.
The Equinox 800 has five different operating frequencies. You can tune these frequencies depending on the mode you intend to operate in, the targets you are aiming as well as the ground condition you plan to detect. The five operating frequencies include 5 kHz, 10 kHz, 15 kHz, 20 kHz, and 40 kHz.
The first three operating frequencies are adapted for large conductive targets while the last two are adapted for smaller targets such as platinum nuggets and gold. Better yet, you can use all these frequencies simultaneously.
This detector allows for the use of several search coils, the default coil the DD 11 inches. But if you want more particular performance such as more areas of coverage and depth, this detector allows for integration with EQX 15-inch coil. If it is more sensitive than you want, then the EQX 6-inch can deliver a perfect job – but you will lose depth and area of coverage.
It has four different modes, and depending on the location you intend to take your metal detecting adventure, you can choose these four location modes accordingly. The field model is perfect for detecting in a clean environment. You can switch to park mode if you are exploring trashy areas since it makes the detector discriminate to ignore false signals from junk items while focusing on the treasure.
The beach mode makes the detector perform exceptionally in the beach environment. This mode also allows the detector to operate on multiple frequencies at the same time. You can switch to gold mode if you intend to seek gold, platinum, or gems in your selected area. The gold mode will also allow you to operate on the highest frequencies (20 kHz and 40 kHz) making the detector perfect for finding small treasure in tough terrain conditions.
Hunting treasure underwater has been made seamless since this detector comes with waterproof features. With this detector, you can hunt in water up to 10 feet deep in water.
Undoubtedly, this is a great multi-frequency detector that is backed with a 3-year warranty. With Equinox 800, you can take your hunt anywhere regardless of the terrain conditions.
3. Minelab CTX3030
The Minelab CTX3030 is a high performing model, especially if you want a detector to use in your daily metal detecting adventures. The technology that this detector brings on the table is top-notch. Better yet, it comes with 28 different frequencies with the lowest being 1.5 kHz and the highest being up to 100 kHz. This is the widest frequency in the metal detecting industry.
The fact that the CTX3030 is waterproof, you have unlimited hunt ground of up to 10 feet submerged underwater. So, don't worry about hunting in wet conditions for a prolonged time.
If you intend to hunt far and wide from home, carrying this detector won't be an issue. It comes with a weight of fewer than 6 pounds. Although it is a bit heavier than the two models we have already reviewed, it is pretty light to carry around.
It is equipped with a GPS that tracks all the locations and areas that are proven to hold treasure. With this, you can trace your locations without having to guess the exact locations you passed earlier. Moreover, you will have more control over discriminating objects that you don't want.
It comes with a full-color LCD screen that allows you to view different settings and adjust or control them well. With the built-in speaker and headphone options for wireless audio, you can easily listen and discriminate better.
It has an ergonomic design with a padded armrest strap that fits in your hand perfectly for easy swinging and moving around. So, if you are looking for a metal detector that comes with several operating frequencies that provides you with unlimited detecting capabilities, then the Minilab CTX 3030 Metal Detector is the best option.
Conclusion
The three metal detectors we have reviewed are some of the best multi-frequency detectors you can find in the market today. We guarantee that by choosing any of these detectors you will get excellent performance. Which of these three metal detectors have you picked?
Related Posts