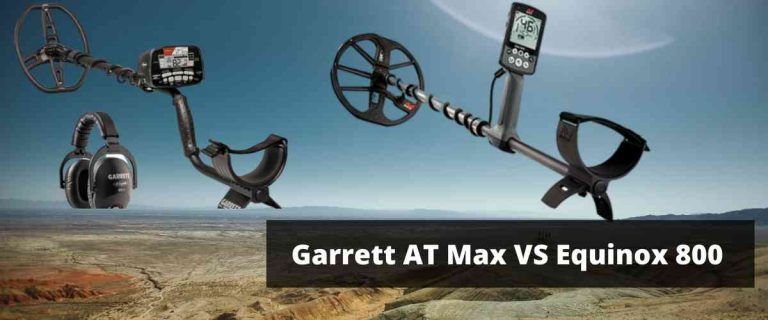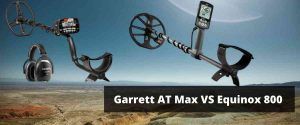 There are so many options to choose from when it comes to buying a metal detector. In this post, we compare two popular detectors Garrett AT Max Vs Equinox 800. If you are to choose between the Garret AT Max and the Equinox 800, which one would pick? Whichever brand you choose it will all depend on what you plan to do with it and the performance you expect for your metal detector.
Garrett AT Max Vs Equinox 800 Comparision
13.6 kHz operating frequency
LCD screen and numeric target ID view
Manual and automatic ground balancing
DD 11-inch search coil
Waterproof
LCD screens have a backlight
Comes with an all-metal Search mode
Multi-frequency
Fast and accurate target ID
Manual and automatic balancing
8.5 x 11 –inch PROformance DD search coil
Waterproof
Wireless audio
Undoubtedly, these two metal detectors are great and can deliver you the best detecting experience you can imagine in the metal detecting industry. The Garrett AT Max is the newest model in Garrett's popular All-Terrain series. It is an upgrade of the exceptional AT Pro with several new features that will enable it to perform when it comes to metal detecting.
On the other hand, the Equinox 800 is designed for those looking for serious treasure hunting enthusiasts who want a great performing detector without breaking their banks. It is also suitable for novice detectorists as it comes with several pre-set modes for various detecting areas. You just set the search mode according to the location and go.
So without much ado, let's put these two metal detectors' features head to head and find out which one you can choose between them.
Search Modes
The Equinox 800 comes with four search mode that gives this detector an edge over other similar metal detectors in the market. Its search modes include Field Mode, Park Mode, Beach Mode, and Gold Mode. So, it doesn't matter where you take your detecting adventures may take you. Moreover, with the multi-frequency, this mode becomes even more versatile for its price.
AT Max, on the other hand, comes with a true all-metal mode which ensures maximum sensitivity and depth. However, this is not a multi-frequency metal detector like the Equinox 800.
Operating Frequency
The Garrett AT Max has a 13.6 kHz operating frequency which makes this metal detector great at detecting and separating small targets. Although this is not a multi-frequency detector, the frequency can subtly be adjusted to eliminate interference from power lines and other metal detectors, but cannot be significantly changed.
The Equinox 800 is a multi-frequency metal detector that has five single frequencies that include 5, 10, 15, 20, and 40 kHz. It can also use all these five frequencies together if you opt to use the Multi-frequency mode. The Multi-frequency mode comes in handy to eliminate the necessity to detect the same ground or area several times with different frequencies out of fear that you might have missed a valuable find. So when it comes to the operating frequency, the Equinox 800 has a clear lead.
Digital Target ID
The Garrett AT Max comes with an LCD screen where you can view a numeric target ID for the detector. Its digital target ID ranges from 0-99 like the other Garrett models to give a visual representation of the target's composition. This target ID is highly accurate as long as the ground balancing is right for the environment.
On the other hand, the Equinox 800 has a fast and accurate target ID. The target ID features a high recovery rate to ensure that the detector doesn't miss any valuable item in the trash or hunting ground.
Ground Balancing
Both metal detectors have manual and automatic ground balancing. Adjusting the ground balance is essential, especially when detecting in highly mineralized areas, soil conductivity, or saltwater. By 'ground balancing' you will be able to eliminate interfering factors so that you optimize depth detection and cut down on the chatter.
If you want to shift to automatic ground balancing, you hold the "SHIFT" button in the AT Max and get the detector automatically balance depending on the present environment. You have the same option when trying to shift to automatic ground balancing in the Equinox 800 setting.
Search Coil
The Equinox 800 features a DD 11-inch search coil that is waterproof and performs amazingly. The DD 11 inches search coil is a solid coil that will deliver better depth detection and excellent target separation.
The Garrett AT Max, on the other hand, has Garrett's 8.5 x 11 –inch PROformance DD search coil. With this coil, you can be sure to get excellent depth detection and target discrimination. The AT Max metal detector also allows for the attachment of other more specialized search coils such as 9 x 12 –inch or a sniper coil. You can buy these two search coils separately.
Waterproof
Both Garrett AT Max and Equinox 800 are designed to be waterproof and can be submerged into the water up to 10 feet (3 meters). With this feature, these two metal detectors make a great option for detecting in shorelines, streams, rivers, and shallow beaches.
However, you are required to buy new waterproof headphones for use whenever you dive into the water for underwater hunting expeditions.
Advanced Audio Settings
The Equinox 800 metal detector comes with fast wireless audio with Bluetooth headphones, WM 08, or the fast aptX Low Latency. The AT Max has the –Lynk integrated wireless technology with wireless headphones. This technology suffers from less interference while having quicker data transfer than Bluetooth.
These two technologies are great at eliminating audio cords while you get no delayed audio output, thus hearing the signal once the coil is right over the target. So get a wireless headphone and detect effortlessly regardless of your detecting environment.
Control Panel and Display
Both the Garrett AT Max and Equinox 800 come with an intuitive LCD screen that displays results and commands instantly and comfortably. Both screens provide clear and easy to view with the larger digits. All the information you need to search is right on the LCD screen.
The search modes, sensitivity, or operating frequency for the Equinox 800 can be adjusted instantly. You only need to press the dynamic and continuous detection. You can also view the status of your battery, activate the pinpoint mode, and search sensitivity among other hosts of advanced features.
Both LCD screens have a backlight which comes in handy when detecting in low-light conditions.
Design, Appearance, and Ease of Use
The Equinox 800 is a metal detector that has user-friendly and intuitive control settings that can help you enjoy the best experience hunting. It is lightweight as it weighs about 1.3 kg.
It also has an ergonomic design that allows for long periods of hunting without feeling tired. It has an 11-inch round coil which takes most of the weight while the sturdy padded armrest offers your hand a comfortable resting platform.
The Garrett AT Max weighs just 3.3 pounds making it a lightweight metal detector that you can use for longer without tiring. The control box is near the hand with the control buttons located even near the padded handle for ease of use.
It comes with a well-padded armrest where your armrest for extra support. The armrest has a strap that you can fasten when using the detector to ensure the firm holding of the metal detector when in use.
Final Verdict
If you are looking for a high-performing waterproof metal detector, then you don't need to look further from these two metal detectors. Both can deliver you the best metal detecting experience.
Although these two metal detectors come with more the same features, the Equinox 800 is a bit advanced technologically. It also leads to its multi-frequencies that come in handy when searching for different types of items.
Moreover, it has five search modes that make it even versatile than the Garrett AT Max. So, to get value for your money on top of an excellent performing metal detector, the Equinox 800 could be the right pick.
Related Posts