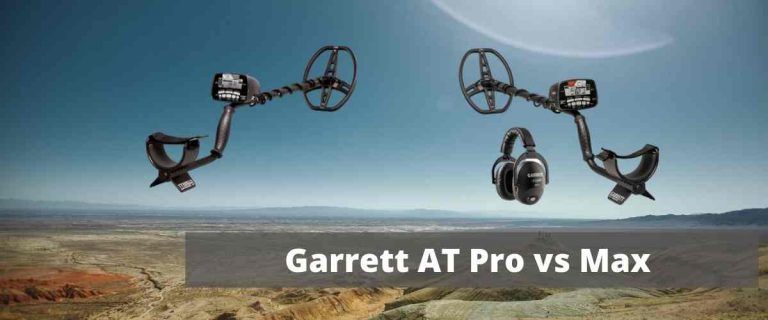 The Garrett AT Max is the latest metal detector under the Garrett metal detectors series. It closely follows up the Garrett AT Pro which makes you ask what exactly the difference between Garrett AT Pro vs Max. Some may also ask between the two metal detectors which are the best? However, all this boils down to what you are looking to use the device for.
There are several key differences between the two metal detectors which can help us narrow down to which metal detector best suits your needs. Without much ado, let's look at the different specifications and key features of each of the metal detectors.
Garrett AT Pro vs Max
Operating 15 kHz frequency
Waterproof and submersible
Pro-Mode Audio
Electronic pinpointer pushbutton
Auto and manual ground balance
Iron Audio
Lowest kHz frequency of 13.6 kHz
Waterproof and submersible
Wireless headphone
Detection modes: All Metals, Coins, Custom, and Zero Modes.
Backlit
Garrett AT Max Metal Detector Review
Garrett AT Max is one of the most advanced metal detector models within the All-Terrain series. It is designed to be fully waterproof and built to hit the toughest grounds. It also comes with a host of features that are pertinent to professional hunters. Here are some of the notable key features:
1. Maximum Depth Detection
The AT Max features the lowest kHz frequency of 13.6 kHz with 4 four adjustable settings. With these features, you can penetrate deeper into the ground in search of high conductivity targets that are up to 18-inch deep.
2. Waterproof and Submersible
The waterproof and submersible feature is the key in the AT series. The Garrett AT Max is designed with a waterproof and submersible feature to make it the ultimate tool that gets you hunting in all-terrain regardless of the weather conditions. If you are looking for a treasure that is sunken in water, the AT Max can get it done to a maximum depth of 10 feet. However, when submerging the control box in water, you must switch out to waterproof headphones that you can buy separately.
3. Wireless Technology
The AT Max features an inbuilt Z-Lynk wireless system that enables you to synchronize with any wireless headphone to the metal detectors. Better yet, it comes with MS-3 headphones for you to start hunting right away. The wireless technology is six times faster than Bluetooth and up to 4 times faster than any competing wireless systems. Therefore, you will be able to detect and find faster than ever while using headphones.
4. Multiple Detection Modes
The Garrett AT Max comes with four detection modes that include All Metals, Coins, Custom, and Zero modes. However, it doesn't have a binary system that provides Standard Mode. Custom, Zero, and Coins are discrimination modes that reduce the targeting of trash items. These discrimination modes also allow you to make use of the Tone ID feature that delivers more data about a metal target through tone pitch. Nonetheless, it reduces sensitivity to small and deep targets that the All Metal mode would be able to identify.
5. Back-Lit Display
The AT Max model features a backlit that is beneficial when hunting in the dark. It improves visibility in low-light conditions. Nonetheless, the LCD screen backlit isn't adjustable.
Garrett AT Pro Metal Detector Review
The AT Pro is perhaps the most famous metal detector produced by Garrett. It is one of the AT series that includes the AT Max and AT Gold. The AT Pro model is designed to offer professional-standard performance but at an affordable price. Here are some of the prominent features of the AT Pro metal detector model.
1. Operating Frequency
The AT Pro comes with a 15 kHz operating frequency which is higher than most VLF detectors in its price category. The high operating frequency can easily detect small targets and deliver precise target separation.
2. Waterproof and Submersible
The Garrett AT Pro is waterproof and submersible to a depth of 10 feet. With these features, the metal detector is ideal for hunting in shallow waters such as in rivers, creeks, lakes, and shallow parts of the sea.
The AT Pro doesn't come with waterproof headphones, and therefore you will have to buy separately. Only land-based headphones come with this metal detector model.
3. Pro Mode Audio
The Pro-Mode Audio offers seasoned hunters to hear the target's depth, shape, and size. It also allows the integration with Tone Roll Audio to enable you to perceive conductivity changes from your target.
4. Iron Audio
The AT Pro features the Iron Audio, a feature that is beneficial for coin shooters that need to differentiate between trash like washers and bottle caps from coins. While the audible sound from coins will remain consistently high tone, that from bottle caps will be low-high-low tones. The best way to utilize this feature is to keep it switched off and once you receive a questionable response from an item, switch it on to listen for the tones.
5. Electronic PinPointer
The Garret AT Pro features an electronic pinpointer pushbutton that allows the user to find the precise location of the target. This feature is a game-changer for your hunting expectations. By holding the detector steadily 1-inch above the ground and moving it in the crosshair-like pattern, the display will show three results. The scale will show the signal strength while another segmented scale will fill up to indicate the search coil's exact location over the center of the target. The depth scale will show how deep the target is.
6. Automatic and Manual Ground Balance
The AT Pro metal detector features both auto and manual ground balance settings. These settings help to cancel out false ground signals that are caused by ground elements such as salt, red clay, and fine iron particles. If you maximize this feature, you will be able to hone in on a small and highly ferrous object or filter out undesirable ferrous materials to get the highly conductive objects.
Comparison
The AT Max is an expensive metal detector model in all the models in the AT series. The high price is due to the extra high-end features that it has. For instance, it has 44 iron discrimination segments compared to the 40 of the AT Pro model. It also allows the integration of wireless headphones as it features an inbuilt Z-Lynk wireless system. Moreover, it comes with All Metal mode and extra search mode.
Besides coming at a lower price, the AT Pro metal detector model features a higher operating frequency of 15 kHz compared to 13 kHz of the AT Max. Therefore, it means it is effective at finding small targets compared to AT Max. The AT Pro model also allows users to choose between the Standard and Pro audio unlike the AT Max that only features Pro, thus making the Max less suitable for beginners.
Though it lacks a backlit screen and wireless headphones, the Garrett AT Pro is a high-quality metal detector that is not only easy to use but provides value for money as well. AT Max also a highly versatile metal detector that is viewed as an upgrade of the AT Pro, but it comes with a higher price tag and a bit complicated for an entry-level metal detector.
So, which one is the best? If you are looking for a high-quality metal detector that provides you value for money, AT Pro is the best. But if you are an experienced detectorist who want more versatility and better performance, then AT Max is your best pick.
Related Post