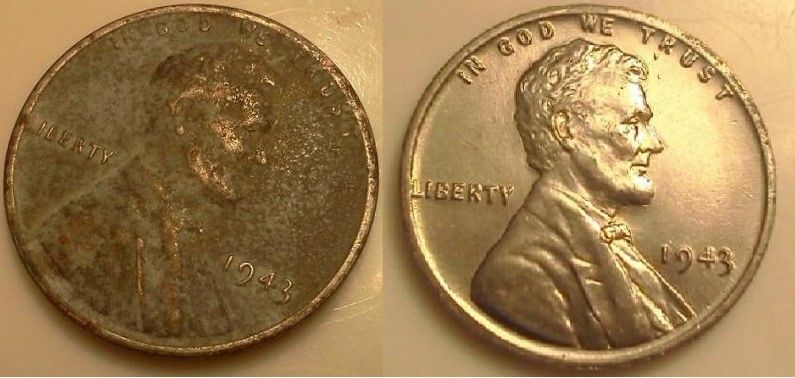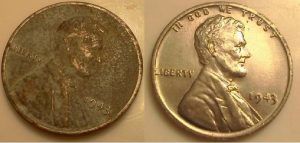 Although it is not advisable to regularly clean dirty pennies as this will significantly lower the value of the coin, professional numismatists, on the other hand, have given their opinion on how to clean steel pennies without necessarily degrading its value. In this article find out different methods of cleaning steel pennies.
How to Clean Steel Pennies
1. Olive Oil
This is a safe and straightforward method of cleaning steel pennies. Whereby you use olive oil soaked in a cotton swab to clean your penny. Period!
You just need to leave your steel penny to soak in the olive oil in a dish for a few minutes.
Then gently roll the cotton swab across the penny by spinning the swab between your fingers to reduce scratching.
Although it won't stop 100% of scratching, it will, however, significantly reduce the scratches on the steel coin
2. Abrasives
There are two ways of abrasive steel pennies cleaning: baking soda and pencil erasers.
Pencil erasers are an effortless method since it involves no liquids that can spill and make a mess. You just rub the penny with the eraser just the same way you would erase a mark on the paper
Baking soda, on the other hand, uses a commercially available cleanser known as Bon Ami. In our observation, baking powder or soring power cleanser produces the most exceptional results.
3. Cloth
The use of cloth involves gently rubbing the steel penny with a cloth against the surface hairlines. Although some original surface is still noticeable underneath, the penny's grade may be impacted nonetheless.
4. Ivory soap and Water
According to renowned numismatists, Ivory soap, and water is the safest way used in cleaning steel pennies. Distilled water is highly recommended as tap water since it contains chlorine that works perfectly in removing the unwanted substances
5. Vinegar and salt
Vinegar and salt are the best methods of cleaning your pennies. Generally, low levels of acids contained naturally in vinegar remove the patina on the penny.
Start by adding a quarter cup of white vinegar into a bowl. Mix a teaspoon of salt into the liquid and stir till it dissolves.
Then, place your pennies at the bottom of the cup and ensure you do not stack them up on top of each other. Wait for around five minutes.
Lastly, remove your pennies from the solution and rinse under warm running water and dry them with a soft cloth
6. Ultrasonic Cleaners
With ultrasonic cleaner steel pennies are cleaned using distilled tap water with a little detergent. Unlike acid-based cleaners that eat away the penny's surface, degrading its value ultrasonic does not diminish the penny's surface.
Should I clean steel pennies?
The answer to this question is yes and no. While some steel penny cleaning methods may significantly improve a penny's appearance, on the other hand, some ways may damage the penny's surface, appearance, and ultimately, its value.
Undeniably, not all steel penny cleaning is harmful or damaging. What we're saying is that an experienced numismatist should only perform specific methods.
We highly recommend that if you need to clean, then, experiment first on coins with little face value or denomination. Ideally, pennies found in pocket change could make the right test subject.
It is important to note that any slight mishandling on a premium penny would adversely affect it both aesthetically and monetarily.
History of cleaning Coins
Generally, copper's demand grew tremendously when the US joined the second world war, for this reason, steel was used to create pennies, thus the steel penny
There is no definitive penny cleaning start date since it reasonable that, when an object looks dirty, individuals are usually inclined to clean it.
Ideally, steel penny cleaning may be traced as far back as the mid-1800s in the United States.
History has it that pennies soon became popular with collectors in 1857 after they were discontinued due to the increasing costs of copper.
Notably, this is how steel penny cleaning began to try and make the pennies mint red again.
Also, there is another early example involving the Philadelphia penny cabinet. Back in 1903.
Here, many pennies in the collection that had once been in resistant condition were now partly covered in a white coating.
Finally, it is essential to note that poorly cleaned pennies affect their market value depending on severity.
Professional stand on Cleaning of Coins
The majority of the renowned numismatists have given their opinions over the decades concerning steel cleaning. E.g. "William H. Sheldon wrote a piece of advice on cleaning old pennies stating: "Many a cent has been ruined in an attempt to improve it. Amateurs, and some who are not so amateur, are forever trying to improve the condition or appearance of an old cent."
Also, "Richard Snow who specializes in the field of Flying Eagle and Indian Head cents, wrote that some cleaning techniques could improve the surface of a coin." While, " Scott A. Travers, author of the book The Insider's Guide to Coins Values states that a coin should never be cleaned as "many" collectors find them to be "repugnant."
In our observation, professionals believe that the idea of enhancing a penny's value through cleaning is a misconception.
Removing the zinc coating from a 1943 steel penny
Notably, to stop the steel pennies from rusting, a zinc coating should be added. If your steel pennies appear to have a kind of grey coating on them that grey covering is zinc oxide, and this means that your steel penny is corroding.
The majority of the numismatist observed that with zinc on steel, eliminating corrosion would be a challenge. You'll need to clean it off; otherwise, it will continue to eat away at the steel.
Although removing zinc coating from a 1943 penny via electrolysis is complicated and will cost you more, on the other hand, it the most effective way.
How to preserve steel pennies
There are various options for storing pennies. However, it is essential to note that it all depends on a few different requirements like protection from oxidation and other chemical destruction, protection from mechanical damage, and protection from theft.
The most common preservation options include; plastic flips, cardboard flip, and penny folders
How do you clean a penny with Coke?
Usually, coke and colas brands will quickly eliminate the tarnish since it contains phosphoric acid that cleans the oxides.
Related posts