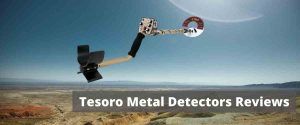 Tesoro metal detectors are not common for many new entrants to metal detecting, but it is among the classics that have maintained some loyal users. Having been founded in 1980, the company continues to provide premium quality metal detectors that are versatile, lightweight, and long-lasting.
Having held well through the ages, even with new entrants in the metal detecting market, you can still trust Tesoro to do the job right. Tesoro metal detectors are designed for use by both children and adults, so it is an excellent device for both newbies and experienced detectorists.
Tesoro is an old company that has a better share of a wide selection of metal detector models to suit your needs. If you are looking to buy your metal detector from Tesoro, you have come to the right place. Today, we review the best 3 Tesoro metal detectors that you can consider choosing to get started in your bounty search.
Tesoro Metal Detectors Reviews in 2020
Tesoro Vaquero Metal Detector
The Tesoro Vaquero metal detector is designed to cater to all your exploration needs seamlessly. It features a simple controller like many other Tesoro metal detecting devices for easier operations.
This device is fitted with both knob and buttons to make the entire field operations easier. With the 3 3/4 ground balance feature, you have an upper hand of this metal detector as it allows the sensor to adapt to the kind of ground you are searching on. As such, you can maintain control of the device as it filters out the undesirable metals that may be underground, thus making your search more direct.
This metal detector from Tesoro comes with a separate discrimination knob that enables the device to detect what you need only. As such, you won't be picking up trash. The discrimination feature can integrate with the pinpointer, to enable you to get several finds within the shortest time possible.
It features one of the best depth detection that you can get minus the use of a separate pinpointer. This device can retrieve items up to 10 inches underground, so be ready to do some digging.
Key Features
The operation frequency of 14.3 kHz, 14.5 kHz, 14.7 kHz

Headphone compatibility 1/4 –inch stereo plug

9 Volt DC alkaline battery

Operating modes include Threshold-based All Metal, Silent Search Discriminate, Pinpoint Mode, All-Metal Fast Auto-Tune

Weight 2.2 pounds
Tesoro Lobo SuperTRAQ
Are you a professional metal detecting enthusiast? Well, you need a more specialized metal detecting device that will attain your goals. The Tesoro Lobo SuperTRAC is an advanced metal detector that will deliver all your bounty hunting needs. This metal detector is designed and built to be slightly heavier than its competitors but won't tire you down. It weighs 3.5 pounds which is highly manageable.
The Lobo SuperTRACO features a simple design that allows you to navigate different terrains without a hassle. Even with the simple design, make no mistake, this metal detector outperforms many of its competitors. If you are into gold hunting, this unit comes with 17.5 kHz operating frequency making it one of the greatest in gold prospecting. It comes with 10-inch elliptical wide scan coil which will allow you to cover more ground swiftly. It has a computerized ground tracking system that provides greater discrimination making it perfect for an all-purpose metal detector.
The fact that it doesn't have a display screen like other brands do, this SuperTRAQ is extremely user friendly. With this unit, you can be sure to handle all kinds of terrain from rough, wet ground and even muddy. It has a durable coil that can handle all the light bumping and bouncing.
If you are looking for a metal detector that can handle excellent depth, this SuperTRAQ metal detector will deliver you high performance in finding underground relics.
Key Features
SuperTRAQ Computerized Ground Tracking

Pole or Body Mount

VLF 17.5 kHz Operating Frequency

10-inch Elliptical Wide scan Coil Standard

Three Ground Tracking Modes: Normal Soil Alkali Black Sand

Ultra-Smooth Operation in Extreme Mineralization

Interchangeable Search Coils

3-Piece Knockdown Pole

Silent Search Discriminate Mode
Tesoro Silver uMax Metal Detector
The Silver uMax Metal Detector is one of the most affordable Tesoro detectors that you can get as low as $300 while offering the same excellent features that you can get in high-end Tesoro metal detectors. As such, you get a high-performance metal detector affordably.
It comes with a moderate frequency of 10 kHz that allows it to detect moderately large metal particles. Another feature that you will appreciate in this unit is the mineral filtering that is perfect for identifying and rejecting any mineral that doesn't benefit you. And with the fairly basic controls, it makes an excellent metal detector for newbies and young individuals to use it.
This unit comes with an 8-inch coil that makes this metal detector wide enough to search larger areas without having to strain too much. It comes with an excellent depth detection that can signal for objects that are underground up to a couple of inches. However, you can integrate it with a pinpointer for better accuracy. Besides, you can adjust the sensitivity to narrow in on retrieving or expanding your research.
It comes with the most effective and flexible modes that will allow for easy use of this unit. So, if you are looking for an affordable metal detector that will perform efficiently courtesy of the great features it has, the Tesoro Silver uMax Metal Detector could be your best pick.
Key Features
Interchangeable Coils

Built-in Mineral Rejection

One Drop-in 9 volt Battery

Silent Search Discriminate Mode

8-inch Concentric Coil

Interchangeable Coils

Low Noise Circuitry

VLF 10 kHz Frequency
If you are a metal detecting enthusiast looking for a different but high performing metal detector, then the Tesoro brand can provide you with the best metal detector model. Tesoro metal detectors are not only conventional units but also bring unmatched quality in the metal detecting industry. Although the brand's metal detector models have cons, they are just a matter of preference. Therefore, they don't perform as badly. With a lifetime warranty, you have nothing to worry about when you have a Tesoro metal detector. If you need a highly-performing metal detector, consider Tesoro brand. You won't be disappointed!
Related Posts